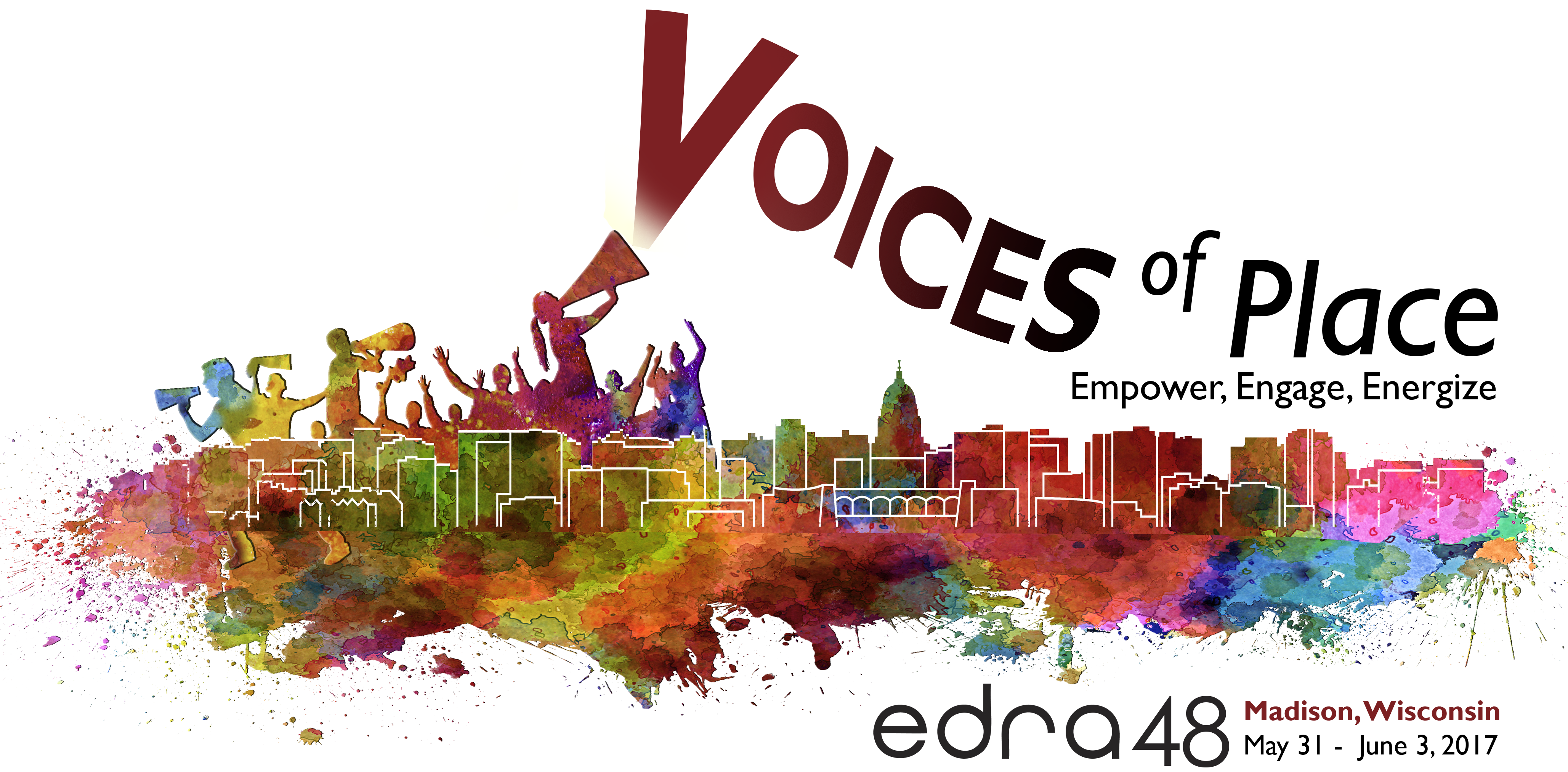 The EDRA48 Madison Conference Committee invites you to submit your work and participate in the 2017 conference. As you plan for submission, please read the full Call for Proposals.
EDRA48Madison invites you to share your findings, best practices and ideas around the meeting theme of "Voices of Place: Empower, Engage, Energize." A list of suggested themes are as follows:
Voices across Generations
Voices from the Margins
Voices of Culture and Globalization
Voices from the Earth
Voices from the Past
Voices from the Future
Making Voices Heard
Other Voices (open ended)–Do you have research or a project to share, but it doesn't seem to fit into the theme of a specific track? This track is for you.
Learning objectives and participant biographies are a
required
component of the submission process so that EDRA can request continuing education credits from the AIA CES, EDAC, IDCEC, LA CES, and PAPA CM.
Individuals can only participate in a maximum of three submissions total across ALL submission types. Any submissions of authors/presenters over the allowable maximum number will be disqualified.
All accepted presenters must be registered to attend the conference by the presenter deadline dates listed in the Call for Proposals to confirm their participation and to be included in the program.
| | |
| --- | --- |
| Monday, August 1, 2016 | Submission site opens: www.edra.org/edra8madison |
| Friday, October 7, 2016 | Submission Deadline for Pre-Conference Intensives, Individual or Group Presentations, and Mobile Session |
| Friday, December 2, 2016 | Submission Deadline for Display Posters and EDRA Shorts |
| Monday, December 19, 2016 | Acceptance notification for Pre-Conference Intensives, Individual or Group Presentations, and Mobile Sessions |
| Monday, January 16, 2017 | Authors/Presenters' Deadline to accept presentation and send any edits of proposed Pre-Conference Intensives, Individual or Group Presentations, and Mobile Sessions |
| Tuesday, January 17, 2017 | EDRA48Madison Early Bird Registration opens |
| Wednesday, January 25, 2017 | Acceptance notification for Display Posters and EDRA Shorts |
| Wednesday, February 15, 2017 | Authors/Presenters' Deadline to accept and send any edits for Display Posters and EDRA Shorts |
| Wednesday, March 1, 2017 | Authors/Presenters deadline to register for the conference |
| May 31-June 3, 2017 | EDRA48Madison at the Monoma Terrace in Madison, WI |